In previous articles, we have discussed how, despite being essential for safety and the proper execution of maintenance tasks, lighting fixtures are often neglected in wind turbine maintenance.
It is common for these components to be relegated and not receive the attention they deserve. It is undeniable that investments in non-critical systems for energy billing are more challenging to justify, but they are also a clear demonstration of the commitment to health and safety by wind farm operators and maintainers.
The deficiency of lighting systems is a widespread problem in the wind power industry, affecting thousands of machines worldwide. It affects almost all wind turbines manufactured before 2012 and a significant percentage of those installed between 2012 and 2016. This issue has two aspects:
Service lighting: Some wind turbines, especially older ones, are real caves. Proper lighting enhances safety and comfort, impacting positively 100% of maintenance tasks.
Emergency system: The absence of an emergency system or the presence of a deficient system is common in older machines (low brightness, limited autonomy). Additionally, the absence of an emergency system is only missed in rare situations (fortunately), such as the loss of the external network while the technicians are inside the wind turbine.

And the reality is that, as long as nothing goes wrong, it is hard to realize the risk of not having these systems in good condition. Although it is not a low or negligible risk.
But that does not mean we can ignore reality: the lighting system is fundamental to ensure a safe working environment within the machine. While no one in the wind industry would dispute the above diagnosis, it is still quite common to find deficiencies in the lighting systems of wind turbines.
Fortunately, this problem can be easily solved by designing the right retrofit. This has been demonstrated on different platforms of different OEMs, where such retrofits have been successfully installed in recent years.
Many owners have already initiated retrofits of their assets, although this is still an endemic problem where a lot of work remains to be done.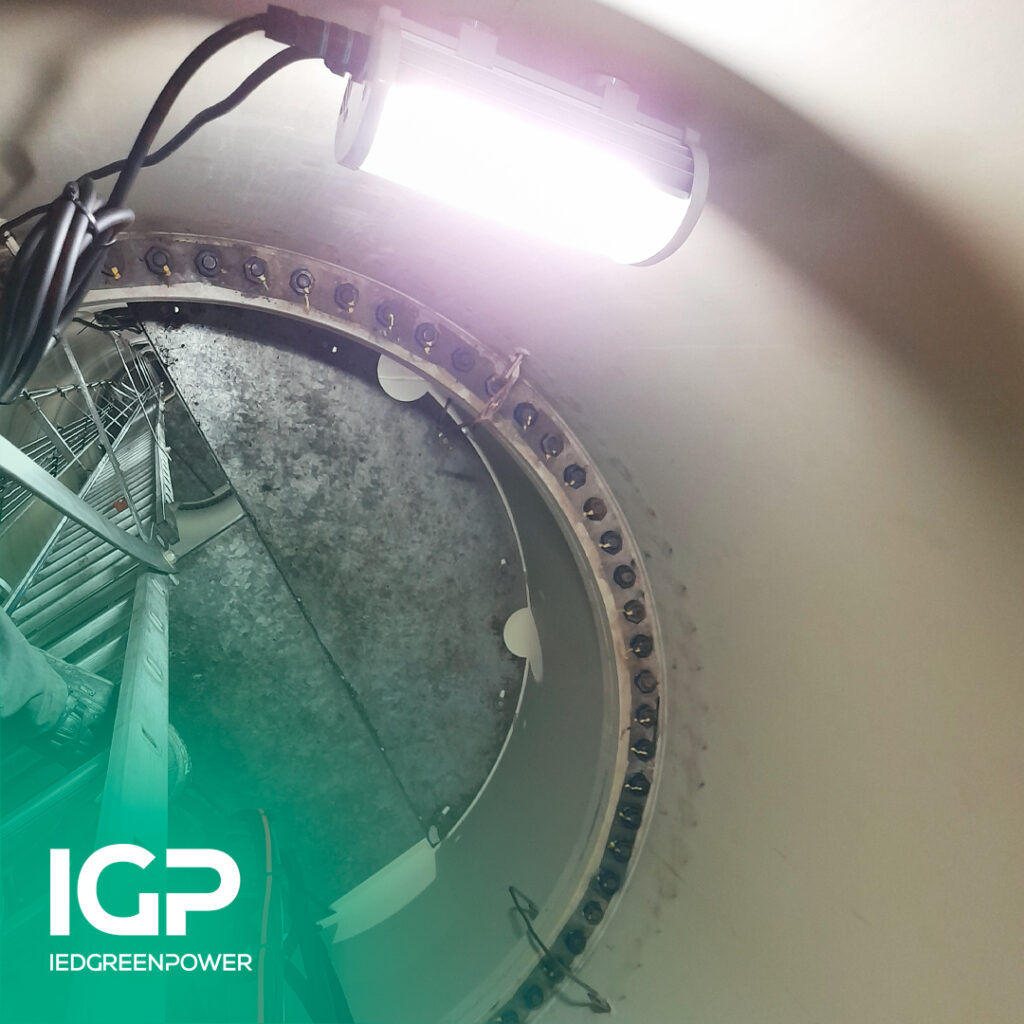 Different options to develop a retrofit
Retrofitting a wind turbine's lighting system to current standards is much simpler than it might initially seem. In general, there are two options:
Wind turbine models that have already been retrofitted for other customers. This is the most favorable case, where a previously designed retrofit can be reused.
Wind turbine models require a new retrofit design, as it has never been installed on a similar model before.

The first option is the ideal case. Customers can take advantage of the track record of solutions developed by IEDgreenpower, which can be directly replicated for their fleets. Moreover, for machines of similar platforms or families, the adaptations to be made will be minimal. Among the wind turbines already equipped with retrofits supplied by IEDgreenpowe are the following:
Gamesa: G47, G52, G58, G87 (easily expandable to the G8X and G9X families).
Vestas: V42, V47, V90 (easily expandable to the V8X and V9X families).
MADE: AE4X and AE5X.
Ecotecnia: ECO-80.
Neg Micon: NM 48.
Acciona Wind: AW3000.

In any case, a complete review is necessary to check for possible differences in wind turbine versions, variants, updates, model years, and other aspects that may affect electrical schematics and wind turbine dimensions, which in turn impact the solution design. And, of course, the height of the tower must also be considered.
The second case, with wind turbines that have never been retrofitted, requires a design from scratch. From an engineering perspective, designing such a retrofit is not complex, but it does require several hours of office work by technicians.
In that sense, IEDgreenpower has engineering resources to support wind farm owners throughout the design process. This includes the design of the entire system, a software simulation of the lighting, cable sizing, fixing solutions, definition of the luminaire model and the number of units needed, and more.
IEDgreenpower is continuously trying to open the market to new platforms, achieving safe and compliant wind turbines all around the world. If you have any questions, please do not hesitate to contact us. You can find more information about our products at www.iedgreenpower.com.